So my oldest son, did some Mad Libs this morning with me and i wanted to share to everyone!
---
When i woke up this morning, i was feeling Smelly.
I headed to the bathroom and put Husband on my toothbrush, and
it tasted just like Grumpy Squid! When i went to the wardrobe,
I pulled out my Knee-pads and my Flipflops, and
when i looked in the mirror, i looked just like Channing Tatum! I walked
to the kitchen, and my brother looked up from his breakfast of Strawberry
and Smoothie and said " Wow! you look really Frisky!"
I sat down and poured a bowl of Cinnamon bun chips, added some
Mustard, and ate it as Loudly as i could.
I jumped up and Danced to grab my book-bag, because
i didn't want to be late for the Tractor to school.
My mum said, " Why are you rushing? it"s Saturday!' Boy, did i feel Naked! what a Slimy morning!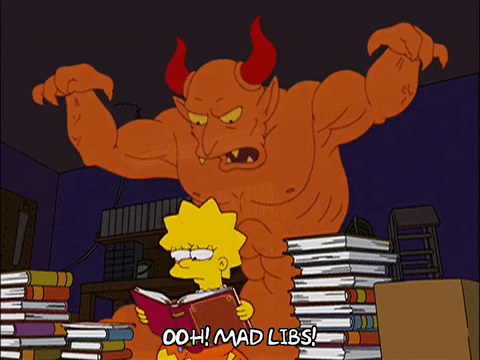 Hope you have enjoyed as much as i did!
Thanks,