May's OwlCrate theme was " Comic Explosion " and it was so awesome! I love everything that has to do with superheros and comics, so i was very excited to get this months box. Read on to see what goodies were included in the book.
( Review of book will be posted once read )
What was inside (pictures below):
 Exclusive candle from Dio Candle Company! Wonder Woman!
Full size Funko POP figure – figures vary, Batman shown
 Eliza and Her Monsters by Francesca Zappia + Exclusive Cover + Author's Letter + Print (?)
 Afar by Leila del Duca (Comic)
 Clicky Pen – Comics themed
 Zipper Pull  – Comics themed
June's Theme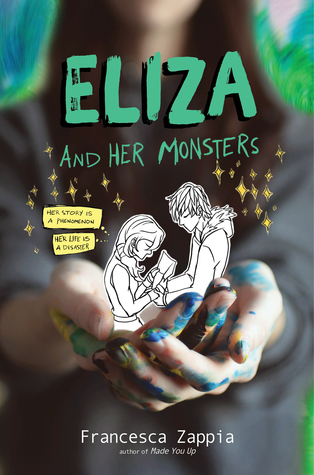 Eliza And Her Monsters – by Francesca Zappia
Pages: 400 pages
4.49  Stars
Eighteen-year-old Eliza Mirk is the anonymous creator of Monstrous Sea, a wildly popular webcomic, but when a new boy at school tempts her to live a life offline, everything she's worked for begins to crumble.
In the real world, Eliza Mirk is shy, weird, smart, and friendless. Online, Eliza is LadyConstellation, the anonymous creator of a popular webcomic called Monstrous Sea. With millions of followers and fans throughout the world, Eliza's persona is popular. Eliza can't imagine enjoying the real world as much as she loves her digital community. Then Wallace Warland transfers to her school, and Eliza begins to wonder if a life offline might be worthwhile. But when Eliza's secret is accidentally shared with the world, everything she's built—her story, her relationship with Wallace, and even her sanity—begins to fall apart. With pages from Eliza's webcomic, as well as screenshots from Eliza's online forums, this uniquely formatted book will appeal to fans of Noelle Stevenson's Nimona and Rainbow Rowell's Fangirl.
The Subscription: Owl Crate
The Description: OwlCrate is a subscription service that sends you magical monthly boxes tailored to a chosen theme. Each OwlCrate will contain one new Young Adult novel, as well as 3-5 other bookish goodies and treats related to the theme of the book. Every box also contains exclusive content from authors and publishing houses that you can't find anywhere else! Recommend for readers aged 16 and up.
The Price: $29.99 per month
The Shipping: $6.99 Shipping to the US, $10.59 Canada, $19.99 International. Ships from US to US, CA, UK and AUS
The Reviews: Owl Crate Reviews
What are your thoughts on this OwlCrate box, or on life in general?! Let's chat.