June's OwlCrate theme was " Make It Out Alive " and it was great! I loved everything in this box, so i was very excited to get this months box. Read on to see what goodies were included in the book.
( Review of book will be posted once read )
WHAT WAS INSIDE (PICTURES BELOW):

2:♥ Sarah J. Maas Bookmark Double Sided
3:♥  OwlCrate Pin 

5:♥ An Ember in the Ashes Quote Pin or Magnet
6:♥ Zombie Sleep Mask
7:♥  New World Rising by Jennifer Wilson
8:♥ The Sandcastle Empire by Kayla Olson – signed bookplate and OwlCrate exclusive cover as well as a sticker sheet!
July's Theme
New World: Rising (New World #1) by Jennifer Wilson
Pages: 350 pages
4.26  Stars
Since witnessing her parents' murders at the age of eleven, Phoenix's only purpose in life has been to uphold her mother's dying words- to be strong and survive. But surviving outside of The Walls- outside of The Sanctuary- is more like a drawn-out death sentence. A cruel and ruthless city, Tartarus is run by the Tribes whose motto is simple, "Join or die."
Refusing to join and determined to live, Phoenix fights to survive in this savage world. But who can she trust, when no one can be trusted? Not even herself.
---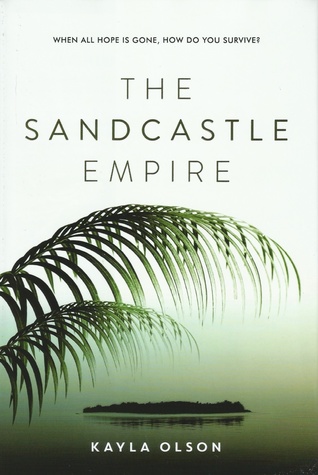 The Sandcastle Empire by Kayla Olson
Pages: 455 pages
4.09 Stars
When all hope is gone, how do you survive?
Before the war, Eden's life was easy—air conditioning, ice cream, long days at the beach. Then the revolution happened, and everything changed.
Now a powerful group called the Wolfpack controls the earth and its resources. Eden has lost everything to them. They killed her family and her friends, destroyed her home, and imprisoned her. But Eden refuses to die by their hands. She knows the coordinates to the only neutral ground left in the world, a place called Sanctuary Island, and she is desperate to escape to its shores.
Eden finally reaches the island and meets others resistant to the Wolves—but the solace is short-lived when one of Eden's new friends goes missing. Braving the jungle in search of their lost ally, they quickly discover Sanctuary is filled with lethal traps and an enemy they never expected.
This island might be deadlier than the world Eden left behind, but surviving it is the only thing that stands between her and freedom.
The Subscription: Owl Crate
The Description: OwlCrate is a subscription service that sends you magical monthly boxes tailored to a chosen theme. Each OwlCrate will contain one new Young Adult novel, as well as 3-5 other bookish goodies and treats related to the theme of the book. Every box also contains exclusive content from authors and publishing houses that you can't find anywhere else! Recommend for readers aged 16 and up.
The Price: $29.99 per month
The Shipping: $6.99 Shipping to the US, $10.59 Canada, $19.99 International. Ships from US to US, CA, UK and AUS
The Reviews: Owl Crate Reviews
WHAT ARE YOUR THOUGHTS ON THIS OWLCRATE BOX, OR ON LIFE IN GENERAL?! LET'S CHAT.
Thanks,