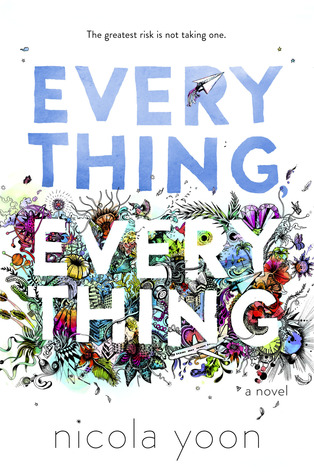 EVERYTHING, EVERYTHING
—————————————————Nicola Yoon———————————————
307 pages                                                                                                      06.17.17 – 06.28.17

September 1st 2005                                                                                                         5.0 🌟




---
My disease is as rare as it is famous. Basically, I'm allergic to the world. I don't leave my house, have not left my house in seventeen years. The only people I ever see are my mom and my nurse, Carla.
But then one day, a moving truck arrives next door. I look out my window, and I see him. He's tall, lean and wearing all black—black T-shirt, black jeans, black sneakers, and a black knit cap that covers his hair completely. He catches me looking and stares at me. I stare right back. His name is Olly.
Maybe we can't predict the future, but we can predict some things. For example, I am certainly going to fall in love with Olly. It's almost certainly going to be a disaster.
————————————————————————————————Quotes———————
"Everything's a risk. Not doing anything is a risk. It's up to you." 
                                "Everyone's a Snowflake, right? We're all unique and complicated" 
"Life is a gift. Don't forget to live it." 
                                     "You're not living if you're not regretting." 
"Boys come and go, but mothers are forever"
———————————————————————————————Thoughts———————
Sad – Only two friends

 😪

Love Olly & Maddy's Messages 💖

No Life 

😲

Love how her room is laid out

Small Chapters – plus pictures YAY 😁

Trapped Feeling

Olly is AWESOME

Hey! were both bad at math

Her Spoiler Reviews are great!

She LOVES books too!!!!

Funny!

Pictures! Pictures!

Felt cautious when they were together!

Love her project on Kissing!

AHHHH!!!!

Cute

Feel Sorry!

Awe Carla

Feeling jealous

HaHa Nurse Evil!

Angry

Re-reads are awesome

Five Senses are good to read

Olly's Theory its great

Loved feeling the way she experience things

Maui = Moana ( not in this book but thought it was funny )

Olly reminds me of my hubby

Guides

Knowledge

Spontaneous

Olly & Freckles  

Dirty!!!! hehe ( if you read the book you'll get it )

Sad part

Mystery

SHOCKED!!!!

Wishing more to the ending!!!