AHHHHHHH " Screaming at my screen "
This month has been very difficult as you seen by the less posts. I have had to clean my house up and down multiple times ( more cleaning than i normally do ) for so many house showings so my landlord can sell this place. 
Looking to move, which there is NOTHING at this time ( Insert SAD FACE ), I have not been getting out as much as i would like, I have been still on and off sick and everything feels like it is caving in!
With all that being said, APRIL was not great, only great thing was my husbands birthday that happened on Saturday!!! 
I am excited cause i got to finish 2 books this month, way more than last month!
The books that i finished this month:
Broken Moon by Sarah Beth Moore
Progress: FINISHED
Broken Beautiful Hearts by Kami Garcia
Progress: FINISHED
Another month!!! Another Birthday….. But this one is the last one until September YAY!!!! My oldest is turning 12……. one more year and i will offically have a teenager in this house. PLEASE SEND HELP! 
Other than that i am really hoping the doctors can help me out and make me feel better, i am taking supplements for my anxiety and a few others for what my holistic person seen but we will have to see if it works i guess. 
Now let's get on to my over the top TBR for this month!!! 
 Books this month:
Eliza and her Monsters by Francesca Zappia
Progress: 107/385 RE – READING
Stargirl by Jerry Spinelli
Progress: 30/186 CURRENTLY READING
To be read: READATHIN AND DISNEY READ – A – LONG

Caraval by Stephanie Garber
Progress:  RE – READ
Finding Audrey by Sohie Kinsella
Progress: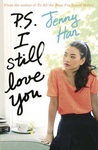 P.S. I Still Love You  by Jenny Han
Progress: 
The Ice Dragon by George R. R. Martin 
Progress: 
Kiss & Blog by Alyson Noel
Progress: 
Pokemon Adventures by Hidenori Kusaka Mato
Progress: 
WHAT IS YOUR TBR THIS MONTH?